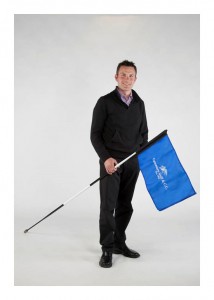 As superintendent of Canmore Golf & Curling Club, Reid Solodan's duties run the gamut from constructing new holes, to waking up before the sun rises and making sure the course is playable just days after some September snowfall. In between his many responsibilities, Reid took the time to chat with us in our latest "Ask the Super" feature:
1) You've been with Canmore Golf & Curling Club for nearly 10 years, how'd you get your start there and what makes it such a special place?
Prior to coming to Canmore I was the Assistant Superintendent in Kananaskis for 7 years. The Canadian Rockies offer an endless supply of fantastic golf in an amazing setting, especially a great course like Canmore. It's my home away from home!
2) You post a lot of great pictures to your Twitter account, is photography a passion of yours?
I've always loved photography and enjoy sharing some of the moments I have to myself when I'm one of the only people out on the course. Around here the number of views to capture are endless.
3) As we've seen recently, the weather in Canmore can be very unpredictable during the shoulder seasons. What challenges arise when taking care of grass that could be dried under the sun one week and under snow the next?
Yes, the weather here can be unpredictable – as we saw this year going from plus 28 degrees, then down much colder very quickly and a dump of snow. From such sudden changes comes the challenge of moist greens and disease pressure. With our wet climate in the spring and fall we are susceptible to disease, as our grass stays wet for a long period of time. We combat this with solid aeration techniques and a light topdressing of sand to help dry the plant out.
4) Some days you're out on the course from before sunset until late at night, what's your favorite time to be out there?
I am most often out on the course very early in the morning – I try not to stay out too late. Some people may be surprised to hear this, but it's never hard to get out of bed that early in the morning when you think about the type of scenery to be witnessed when you get to work.
5) What's your favorite hole at Canmore Golf & Curling Club and why?
My favorite hole is the 2nd because I got to be involved with its construction. It's a long 182-yard carry from the tips over the pond; you need to choose a club carefully and correctly gauge the west wind when it's blowing. The construction was very interesting as we had to line the pond edge with fabric and hand place each rock along the edge to fill in all the gaps.
6) Who would join you in your perfect foursome?
Wayne Gretzky, Jack Nicklaus and David Feherty.