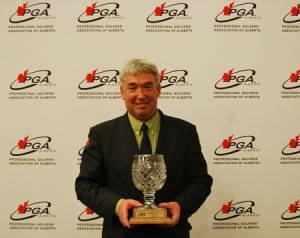 Darren Cooke was not expecting to bring home any hardware when he left the annual PGA of Alberta Show in Edmonton last week. Sure, he knew there was a chance he could win Club Professional of the Year – having been nominated by friend and colleague Bob Paley, but the four day show did not revolve around the awards banquet. Held a week after Thanksgiving (closing day for most Alberta golf courses), the PGA of Alberta Buying Show was more about the opportunity to decompress with industry peers and explore new products and technologies.
Being named as a finalist by the award's selection committee was an honor in itself. But with his name one of just five esteemed pros from across the province to be on the ballot, Darren thought it prevalent to at least prepare for the off chance of having to give a speech. He jotted down a few notes shortly before the ceremony. Notes that would be too smudged to read by the time Darren's named got called as winner of the award.
Always humble as a manager of one of the Canadian Rockies top golf courses, he was quick to politely deflect praise. "My name goes on the award, but this really is an achievement for the entire team at Canmore Golf & Curling Club," said Cooke following his victory. "This honor isn't possible without my management team, many of whom I have worked with for over 20 years, and the outstanding support we receive from the community."
The community has supported Darren Cooke as much as he has supported them. Most of the patrons at his course are locals, and they're quick to recognize "Cookie" as a natural leader and promoter of the game. He's prevalent, enthusiastic and approachable around the course. He's also acts as an ambassador for the region, serving as an unofficial tour guide to Canmore and leader of the Canadian Rockies Golf team.
Even with the golf season over, there's little time to celebrate the honor. Canmore Golf & Curling Club has already begun the "curling" part of their operation. There's also renovations to the 13th hole and new packages and specials to focus on this off-season.
Most importantly, Darren is expected to attend the upcoming PGA of Canada awards ceremony. As a regional winner, he is eligible to take home the same award on the national level. Hopefully his notes don't smudge this next time around.